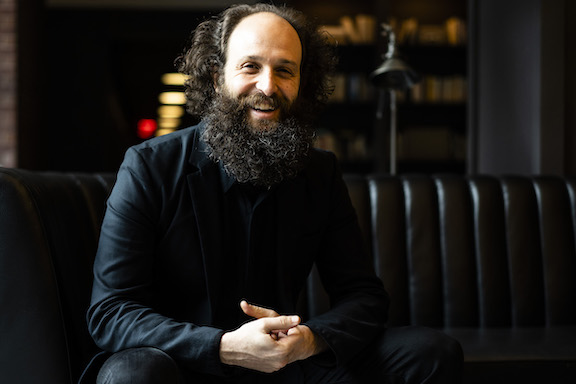 Who am I?
My name is Ben Goldfarb (aka DJ Scribe) and I am a native New Yorker; born and raised on the island of Manhattan. I've been DJing in NYC since the 90s! I started as a club DJ, usually organizing and promoting my own party series, and did weddings occasionally for friends. In the early 2000s I started DJing weddings on a more serious basis, working with one of NYC's most in demand wedding DJ companies, learning the ropes from some of the most successful wedding DJs in the business, and building up to a schedule of thirty or so weddings per year. Jon Oliver, one of my closest friends and longtime DJ partner was also DJing weddings and started Love Junkies in 2011. Over the years he often referred work my way (and vice versa) when he received an inquiry about a date on which he was already booked. It wasn't until 2018, when Jon left NYC and moved to the Bay Area that I came on board as an official member of the roster. I now handle all Love Junkies work on the East Coast.
Love Junkies has been featured in The New York Times, New York Magazine's wedding issue and Martha Stewart Weddings Magazine and I've played at top venues like The Foundry (where we are a "vendor they love"), Greenpoint Loft (where we are a preferred vendor), The Wythe Hotel, Haven's Loft, The Box House Hotel, The Green Building, 501 Union, Brooklyn Grange, Brooklyn Winery, The Metropolitan Building, Angel Orensanz Foundation, NY Botanical Gardens, Brooklyn Botanical Gardens, Prospect Park Boathouse, Brooklyn Historical Society, Buttermilk Falls Inn (Hudson Valley), Handsome Hollow (Upstate NY), Mass MoCA (Berkshires), Oceanbleu (Westhampton Beach), Surf Lodge (Montauk) and many others including weddings in the Catskills, Berkshires, Hamptons, Connecticut, Rhodes Island, Pittsburgh, Virginia, Italy, and more.
Outside of weddings, I'm the founder and one of the resident DJs of I Love Vinyl, one of NYC's most popular all-vinyl dance parties, since 2009. I've played at hundreds of venues big and small in NYC such as Output, The Brooklyn Museum, Summerstage, Celebrate Brooklyn, Lincoln Center, as well as venues in Los Angeles, Miami, Detroit, San Juan, Vieques, Toronto, London, Berlin, Amsterdam, Moscow, Stockholm, Copenhagen, Oslo, Vienna, Athens, Tel Aviv, Sarajevo, and many more.
What type of music do I play?
This is a very common question and an understandable one, given that many wedding DJs have a particular repertoire which they employ for every event. What I do is very different. I work with each couple, using efficient tools I provide you with, to craft a custom playlist that reflects your personal tastes, the range of your guests, and what I know from experience works for each part of the event. Depending on how much you want to be involved, that can range from minimal input from you to a lot of input. Regardless of where you see yourself on that spectrum, I will make sure to understand what you want and deliver the best possible version of that.
Whatever the musical direction, which may include genres spanning many decades, and/or the need to mix together music from different countries and cultures, everything will be woven together seamlessly. I tend to let songs play, rather than cutting them off in the middle and moving on to the next song quickly. And, in most cases, dancing will begin with the music with the most multigenerational appeal, in order to get everyone dancing, and will gradually focus in on what you and your closest friends and family, the people likely to stay and be dancing until the end, are most excited to hear, from more contemporary material to guilty pleasures and nostalgic favorites.
Why choose me?
I take this work seriously and prioritize you. I spend hours listening to your goals and wants, the vibe you're going for, and getting your style. I ask questions you hadn't even thought of, and have a custom-built spreadsheet that will make sure that not only will your wedding not be cookie cutter, but that your tastes and needs will be fully captured before the wedding. If you have a strong idea of what you want: great, I'll deliver that. If you're still in the planning stage and don't have a vision completely worked out, I will ask you questions that will help you to clarify it for yourselves and for me.
Then, at your wedding, I execute and exceed your vision. I bring my expertise and skill with sound and a streamlined setup (no laser shows or funny lighting). I work with the other vendors and the venue, and I make sure that every detail is in place. Most importantly, I use my many years of experience, and hundreds of parties played, to read the crowd to deliver an unforgettable dance party that will leave your guests raving. The day is about you, so outside of necessary announcements to facilitate the schedule and traditions, always done professionally and tastefully, I don't talk on the mic extraneously. I problem-solve quickly and efficiently if there are unforeseen circumstances, letting you enjoy your day and the celebration. My calm demeanor and flexible attitude mean that not only do your guests have a great time, but I can help you navigate any last minute stressors.
What is it like to work with me?
Before, during, and after your wedding, I remain a consummate professional while also being personally invested in you and your wedding. That means being exceptionally timely (early) and organized, answering your emails without delay, being courteous, friendly, and reliable, exceeding your expectations, and making the process of wedding planning easier and more enjoyable.
Do I play out-of-state weddings?
Absolutely. I can be anywhere you need me to be.
Can I play your wedding completely or partially on vinyl?
Yes, I can and I would love to. We charge an additional fee for vinyl weddings because of the additional preparation, labor, and equipment required.
All of this sounds great, but how much do I charge?
The answer to this depends on a number of factors including but not limited to the size of your wedding, location, and hours. Please head over to the Contact page and let me know a few basic details about your wedding. I'll get back to you ASAP with a basic quote which we can discuss further and solidify.